| | | | |
| --- | --- | --- | --- |
| Dow Jones 31,393 (-4.58%) | S&P 500 3,901 (-5.05%) | Nasdaq 11,340 (-5.60%) | Bitcoin $29,088 (-1.96%) |
Last week was another awful showing for markets across the board as inflation data and further shutdowns in China continue to spook investors. The week ended with inflation being reported over 8%, a figure that most of us expected but still a shock to the markets. Unfortunately this caused a broad selloff across all asset classes and industries with little refuge to be found.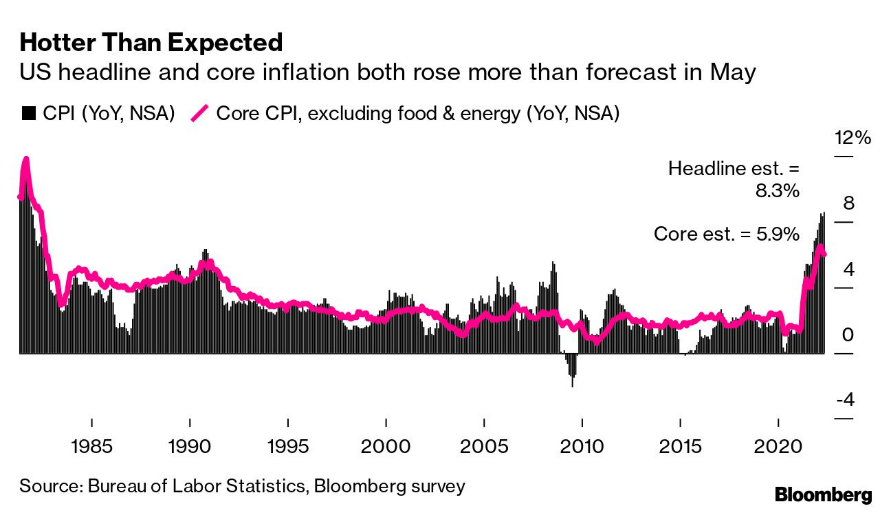 The inflation data, coupled with rising costs for most significant consumer goods has left American households in a difficult position. Rising costs and declining purchasing power will be affecting the way we approach saving strategies and this is a key moment to take a second look at spending habits. Please reach out to us to review both your 401k holdings and your cash inflows and outflows to see if we can identify sources of relief for your household.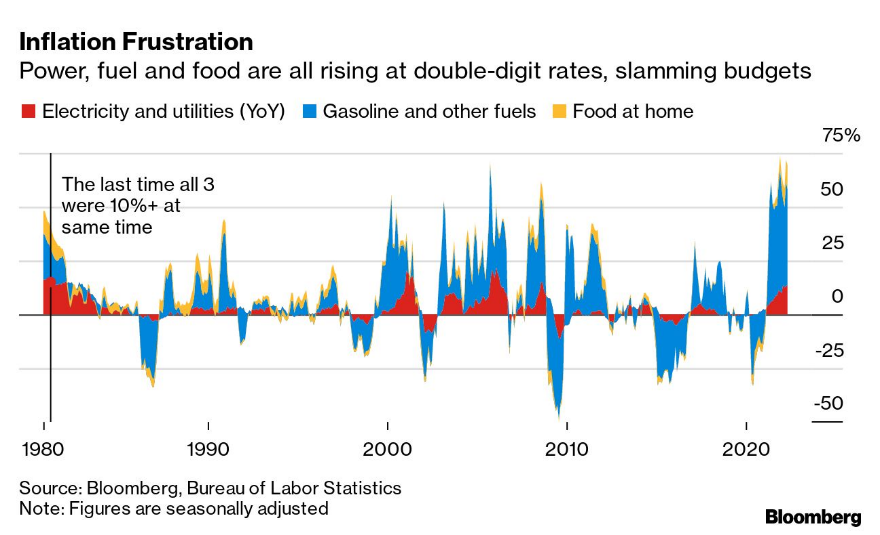 We thank those of you who joined Stefano and Chris for their webinar, "Turmoil in Russia and China and Their Effects on Markets". The full video will be available on our website soon, as well as clipped segments showcasing key topics.
Noteworthy News
Apple unveiled the most significant overhaul to its popular MacBook Air laptop in more than a decade, complete with a fresh design and speedier M2 processor. The tech giant is also pushing deeper into financial services with a "buy now, pay later" offering, and it's also the primary target of a provisional European Union agreement requiring all smartphones and tablets to use a common charger.
US-China relations are at their lowest ebb since Richard Nixon's 1972 trip helped establish diplomatic ties, said Nicholas Burns, the current American ambassador to Beijing. "We have seemingly unremitting competition," he added, pointing to "profound divisions" on issues ranging from economics to technology to human rights. He spoke as Defense Secretary Lloyd Austin arrived in Singapore for a security forum where he'll meet Chinese officials.
The wealth of America's poorest 50% has nearly doubled in two years to $3.7 trillion and narrowed the inequality gap for the first time in a generation.
The bottom half—generally households with a pre-pandemic net worth of $166,000 or less—hold their biggest share of US wealth in two decades, according to Fed estimates.
Trillions of dollars in Covid relief and a labor market that's hottest for the lowest paid are key reasons for the improvement.
There's hope that the reduced economic gap may last. But workers used to inconsistent incomes, and now soaring inflation, know well how quickly gains can evaporate.
Important events this upcoming week
 Tuesday: Earnings expected from Core & Main, Sprinklr, and Planet Labs 
Wednesday: Latest interest-rate decision from the Fed. Earnings expected from Lennar, and John Wiley & Sons 
Thursday: Jobless claims. Golf's US Open begins. Earnings expected from Adobe, Kroger, and Smith & Wesson 
Friday: National Apple Strudel Day 
The weekend: Juneteenth, which commemorates the end of slavery in the US, is on Sunday. Father's Day is also on Sunday