Now that we have reached the half-way point of the year, let's review the last 6 months in the market. At the beginning of 2023, there was a prevailing sense of negativity as both the S&P 500 and bonds experienced significant double-digit losses. However, we argued that the smart investor should stay invested. We were hoping to capture a minimum return of 4.7%. This projection was based on the risk-free yield of a 1-year Treasury. Our average strategy return surpassed expectations, reaching 7.3%.1 This unexpected bullish market appeared out of the blue, catching everyone off guard. This was in large part due to 6 giant technology firms: Apple (AAPL), Alphabet (GOOG), Facebook (Meta), Microsoft (MSFT), Nvidia (NVDA), and Amazon (AMZN) which account for nearly 30% of the market's return. While other major assets didn't yield as high returns, the domino effect quieted the negative sentiment by pushing the S&P 500 higher.  But why was there negative sentiment in the first place and can we expect the market to continue rising? Let's discuss.
Since February of last year, the Federal Reserve, as well as other central banks, has been battling post-pandemic inflation. The relaxation of Covid-19 restrictions combined with historically low interest rates and the accelerant of government stimulus (about $3 trillion), not to mention related supply shortages, delivered an almost perfect setting for runaway inflation. As a result, beginning in March of last year, the Fed has raised its target rate ten consecutive times, from near zero to a range of 5% to 5.25%. This in turn has raised the price of goods and services throughout decreasing your purchasing power when you are at the store or traveling. Adding to this was tighter lending restrictions for both businesses and consumers. For this reason did many forecast a recession in 2023 which when looking at the graph below looked as if it would materialize…. but then something happened in the 2nd quarter.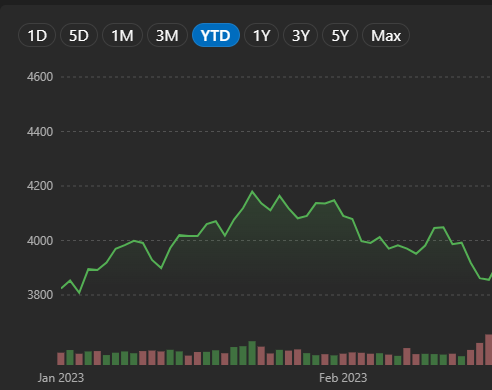 Despite rising interest rates and higher pricing, the consumer still spent money and unemployment remained low holding up the economy. Some — the Fed, for example — might say too well. The unemployment rate in May was at 3.7%, higher than April's 3.4%, but still at the low end of the series' fifty-year history. Disposable personal income after inflation was up 2.1% in the first quarter, and consumer expenditures in April (latest year-over-year number) were up 2.3%, comparable to pre-pandemic levels. All this follows the most aggressive Fed tightening — ten increases from near zero to 5% over 17 months — in at least 30 years!2 According to the Investment Company Institute, the total money market fund assets as of June 28th was $5.43 Trillion.3  In other words, both investors and portfolio managers are still worried about a recession albeit a little milder. So how should you invest going into the third quarter now that we've reached the halfway point?
As of this writing, most of our clients are fully integrated into our models holding on average 10-15% in fixed income securities with an average 4-5% yield. This allocation reduces market risk while keeping money readily available for market growth capture. We began reallocating back into the market in April as we noticed trends that could support a systematic buy in for our investors. This truly rewarded us in that we were both defensive and optimistic. While we intend to maintain a defensive portfolio construction strategy, we will continue monitoring the market for opportunities that can benefit our investment strategy. The goal… long-term positive returns that can support our client's objectives whatever they may be.
We hope this update finds you well and that your 4th of July celebration is an event to remember!!
1 – Please note that past performance does not guarantee future performance and returns are dictated by the risk associated with each portfolio.
2 – https://heritagetrust.com/argent-insights/investment-outlook-july-2023/
3 – Release: Money Market Fund Assets | Investment Company Institute (ici.org)