5/24/22
| | | | |
| --- | --- | --- | --- |
| Dow Jones 31,262 (-2.90%) | S&P 500 3,901 (-3.05%) | Nasdaq 11,355 (-3.82%) | Bitcoin $29,218 (-0.05%) |
Last week was another wild trading session with Friday's gains a happy way to end an otherwise down week again. Target and Walmart earnings where key references, showcasing rising costs and slowing consumer spending. We hope this drop in demand can actually have positive implications regarding supply chain constraints, as COVID and diplomacy continue to cause problems in China.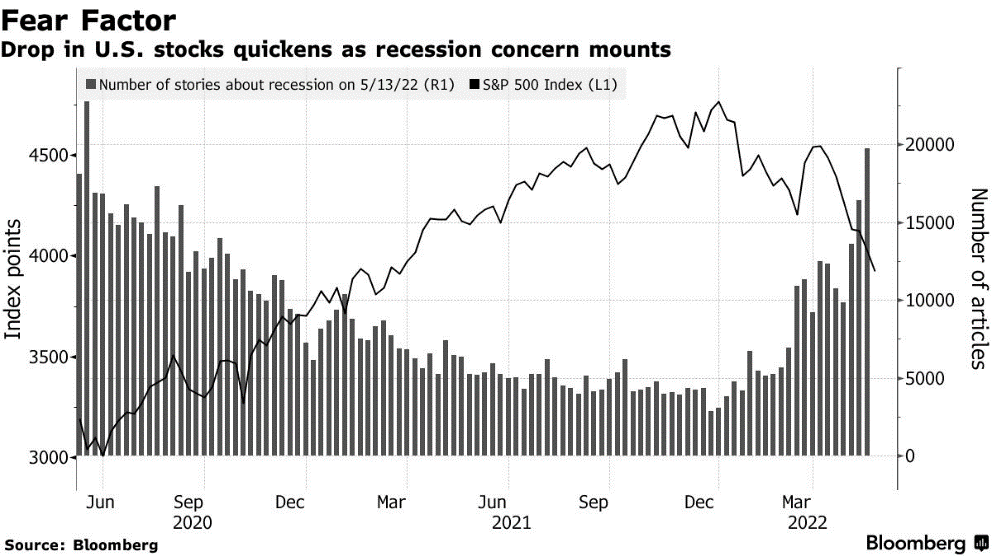 The media is contributing greatly to growing fears of recession and it's hard to quantify what impact this fear will have on retail traders. Most Wall Street and corporate boards have been moving in defensive directions to counter recession fears but are households doing the same or still holding on to what they can? We are closely monitoring the situation in China and will likely bring in our foreign affairs expert for his insights next week as we navigate a market with deals and steals becoming ever more elusive. 
Noteworthy News
China Tensions. China's top diplomat warned, in a phone call with National Security Adviser Jake Sullivan, that increased support from the US for Taiwan could lead to a "dangerous situation." The US stepped up its backing for Taiwan in the wake of Russia's invasion of Ukraine, with military chiefs suggesting the island needed to prepare itself against potential aggression. President Joe Biden is visiting allies in the region this weekend to coordinate on security threats. On the economic front, Treasury Secretary Janet Yellen called for western democracies to pursue common goals to counter China's policies. Meanwhile in China, there were more signs of sluggish growth as earnings continue to disappoint.
Apple's next big thing took a big step forward. The company's board got a sneak peek of the upcoming mixed-reality headset last week, indicating that development has reached an advanced stage. Apple also recently ramped up development of rOS—short for reality operating system—the software that'll run on the headset. All of that suggests a debut within the next several months.
Important events this upcoming week
Wednesday: Earnings expected from Nvidia, Snowflake, Williams-Sonoma, Dick's Sporting Goods, Toll Brothers, and Guess
Thursday: Jobless claims. Economic data from the first quarter. Earnings expected from Costco, Gap, Dell Technologies, Macy's, TD Bank, Jack in the Box, American Eagle, Ulta Beauty, Dollar Tree, and Dollar General
Friday: Earnings expected from Big Lots, Pinduoduo, and Canopy Growth
This weekend: The Indy 500 is on Sunday. Memorial Day is on Monday (markets are closed).