Earnings season is kicking off and a federal rate hike spooked investors last week, but news was not as bad as many feared. Although we can breathe a sigh of relief, inflation numbers and other factors still point to an impending recession. iPlan continues to monitor leading economic indicators to determine when it will be best to lower our cash position. We are not yet at that point.
The airline industry continues to be an example of a scenario where the current working climate is failing, and understaffing is proving to be a serious concern. Airports around the world are struggling to handle the massive increase in capacity over the last few months. Although deals for travel can be found, maintaining flexibility for your travel plans should be a top priority.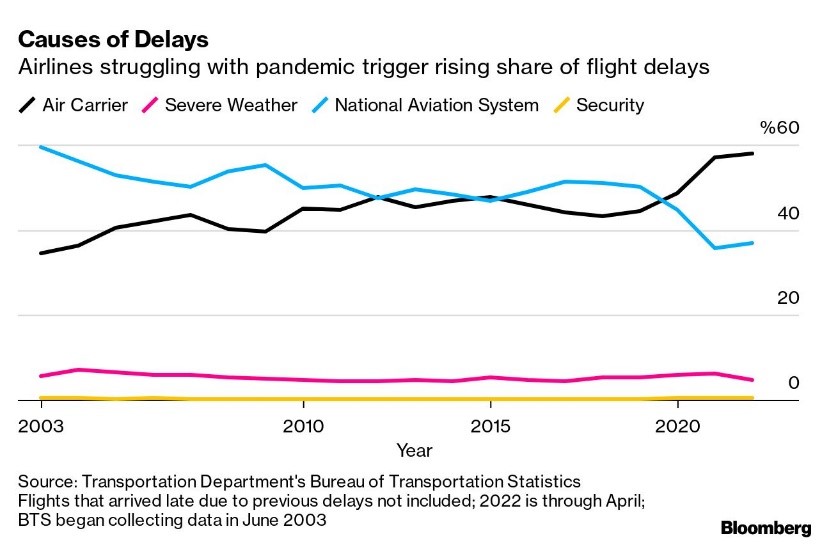 Inflation is hitting us all, but some states are feeling the pain worse than others. Gas and food are the main culprits but rent rates have been rising high in many states without significant controls. As the world embraces work from home, will inflation help drive a migration of families to more affordable areas, changing the landscape of the country?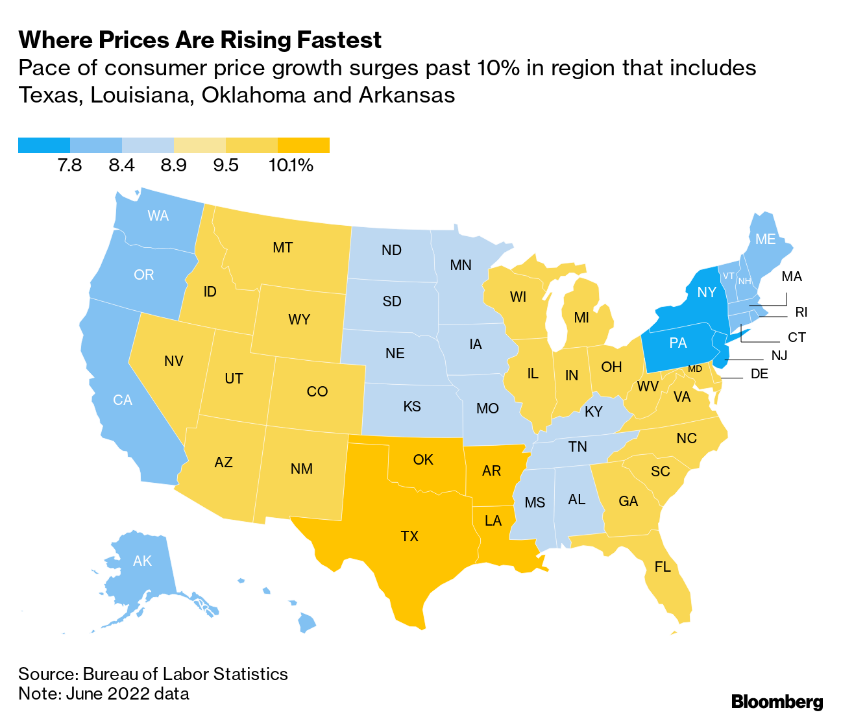 Noteworthy News
China Gives Off Strong Lehman Brothers Vibes China, Mark Gongloff writes in Bloomberg Opinion, is kind of falling apart. People who took out large mortgages to buy properties being built by since-imploded developers like Evergrande have ended up with only unfinished properties and, well, those mortgages. Many of those borrowers are now refusing to pay. And this revolt is only  the tip of an iceberg made of troubled debt. 
US airlines are still wrestling with a Covid hangover and growing flight delays are mostly self inflicted.
Blame game: The share of delays caused by airlines has surged to the highest on record, reflecting the struggle to fill positions as demand for travel surges.
Will it get better? Not yet. Trade group Airlines for America says there are plenty of challenges ahead as the country emerges from the pandemic. "We all have issues," says VP Sharon Pinkerton.
The long-awaited June US inflation figures are in, and they're hot.
CPI rocketed to 9.1% year on year from 8.6%, more than expected, and gained 1.3% from last month.
What was driving that? Driving, mostly. Gas prices rose 11.2%, energy services (aka electricity and natural gas) gained 3.5%, while food costs jumped 10.4%, the biggest increase since 1981. One bright spot: beef steaks and pork chops.
And where? Texas, Louisiana, Oklahoma and Arkansas were hit hardest. Inflation was still elevated in New England and the West North Central states, but held at the May pace. And more cities are topping 10%.
Important events this upcoming week
Tuesday: Earnings expected from Johnson & Johnson, Novartis, Netflix, Hasbro, and Halliburton
Wednesday: Earnings expected from Tesla, Abbott Labs, and Nasdaq
Thursday: Jobless claims. Earnings expected from Domino's, AT&T, Quest Diagnostics, Boston Beer Co., Philip Morris International, Tractor Supply Co., Capital One Financial, Union Pacific, SAP, Equifax, AutoNation, and Dow
Friday: Earnings expected from Verizon, NextEra Energy, and American Express